A UNIQUE SETTING FOR SUCCESSFUL EVENTS IN BERRY
Wedding, birthday, cousinade, seminar...
A PRESTIGIOUS CASTLE RESTORED & EQUIPPED
To make your wedding an unforgettable moment...
HAVEN OF PEACE AT THE GATES OF TOURAINE & BRENNE
Near a lot of sightseeings
WEDDING
To celebrate your wedding in a prestigious location in the heart of nature.
SEMINAR
To bring your teams in a bucolic environment in Berry.
EVENT
For a birthday, a cousinade or a family celebration in a unique environment.
WEEK-END / VACATION
To get relaxed in a quiet and comfortable location with family or friends.
Castle
Lodge
Reception room
Bedrooms
Swimming Pool
Spa
Activities
Partners
Conciergerie
Castle
A PRESTIGIOUS RESIDENCE
RESTORED WITH CARE.
Dating from the 16th century this refined and welcoming castle has been totally restored while respecting its history and including the latest technologies. The spirit of this property delivers a perfect blend of tradition and modern comfort. The style and atmosphere created have been designed to provide a feeling of well-being in an exceptional environment.
Two and a half hours by car from Paris to the south doors of the Loire Valley, east of Touraine and north of the Brenne National Park, the property extends over 32 hectares in a bucolic setting.
The amenities can be rented as a whole or partially, always in total exclusivity.
Lodge
A CHARMING MANSION
FACING THE CHATEAU
Alone or in addition to the castle, you can rent the lodge located in the main courtyard of the property. This annex of the castle allows to accommodate four guests in an authentic and bucolic setting. You can spend a stay with friends or family, in quietness and secure environment.
It has an equipped kitchen, a living room, a dining room and two double bedrooms with bathroom. The facilities of the castle (swimming pool, tennis, fitness room, yard) can be made available to the occupants of the lodge with a supplement.
The lodge is accessible round the year. See the description of the lodge in detail.
Reception room
A ROOM EQUIPPED &
ITS PROFESSIONAL KITCHEN
The Allogny reception room of 105m2 has a large fireplace and is fully furnished. On the 1st floor you have two mezzanines, one as a  library and the other one as a dining space for around twelve to sixteen guests. A fully equipped professional kitchen allows the caterers to work in excellent conditions, a cloakroom with shower is also at their disposal.
This room can be transformed into a wedding room and accommodate 85 guests seated. It can also be used as a huge living room or dining room. Facing the large fireplace sofas and armchairs await you. A large dining room table can accommodate thirty people. It can be transformed into a night club entirely sounded, to dance all night without disturbing anyone ! Finally, this room can be used as a fully equipped seminar room (extra large retractable screen, video projector, paperboard, microphone, mobile TV monitor, sound system). Everything is in place to work in peace.
Bedrooms
10 SUITES & BEDROOMS
WITHIN THE CASTLE AND THE LODGE
You have 7 bedrooms including 5 suites plus a dormitory room, all of them are different with its own character and refined furnishings. They are air-conditioned and have their own bathroom and toilet.
You have in each room an overview of the garden which will leave you speechless.
Two bedrooms can be doubled in capacity, in the living room dormitory we have three additional beds.
You can accommodate 21 guests in the bedrooms of the Castle.
Swimming Pool
AN OASIS IN A GREEN SCREEN
The swimming pool of Allogny of 70m2 (14m x 5m) heated will seduce you, sunny all day. Close to the castle in a safe environment, it is one of the essential spot of the property. By swimming through its overflow you feel like you do not see the edges, the landscape view to infinity will feed you with happiness !
The various terraces with trees, mediterranean-inspired surroundings, fully equipped pool-house (barbecue, dining room, living room, kitchen area (sink, refrigerator) allow you to spend unforgettable days and evenings (you'll be filled in admiration with a unique and a lighting concept.
Spa
FITNESS & RELAXATION
An air-conditioned fitness room is at your disposal in Allogny, where you can relax in a very cozy setting. This room is accessible and fully equipped for disabled guests.
It includes a 5 person spa, a sauna for 4 persons, a fitness equipment (treadmill, bike, rowing machine,  boxing bag are waiting for your well-being). Audio and DVD systems are available. Once the sport exercises are completed, you can enjoy the massage and relaxation room adjoining this room as well as changing rooms, shower and toilets.
Activities
AT THE CASTLE &
IN THE REGION
At the castle you can enjoy all our infrastructures in quietness. The swimming pool, the tennis court, the park, the library … are all opportunities for you to relax or for your leisure activities.
All around the castle within one hour's drive you'll find lots of ideas for entertainment, to discover culture and gastronomy of our beautiful region or to do sports. Find all the activities hereby.
Partners
SELECTION OF QUALITY PROVIDERS
To meet your different expectations, we have identified and selected quality providers in Indre. They are used to working for us and our customers in which we have a total confidence.
They know the area and the infrastructure so they can be operational immediately. Floral decoration, catering, photo … you can apply them on our behalf.
Conciergerie
SERVICES ON REQUEST
You may benefit from the Chateau either by making all your own arrangements to add to your stay or we can help you to do this should you so wish.
This can include help with transport and car hire, cleaning services, catering facilities whether for an intimate breakfast, a diner party, seminar refreshments and lunch, arranging a barbecue lunch around the pool or even the catering at your wedding party.
Suggesting and booking restaurants for you, arranging trips to local activities, visits to chateaux and cultural places.

30 September 2017
Le Château d'Allogny vous propose un événement culturel à chaque saison. Le premier s'est déroulé...

30 October 2017
Pour remercier ses différents commerciaux, un directeur d'entreprise a offert un week-end au Château d...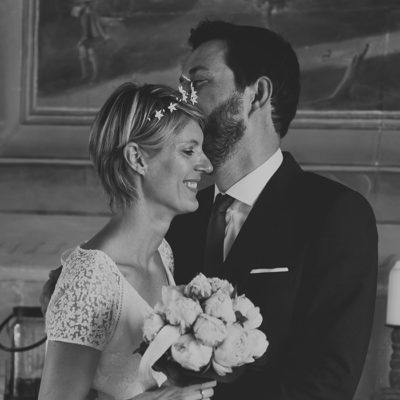 A wonderful wedding in a beautiful place! Thanks to the Château d'Allogny.
Valerie and Christophe